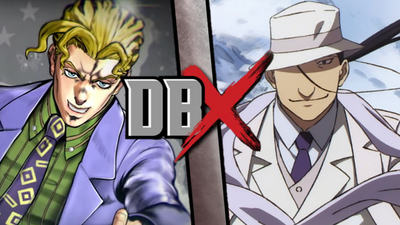 Yoshikage Kira Vs. Solf J. Kimblee is a What-if? Episode of DBX. It features Yoshikage Kira from Jojo's Bizarre Adventure and Solf J. Kimblee from Fullmetal Alchemist.
Description
Edit
Two sadists with explosive powers take each other on! Who will end up being satisfied with their kill? Can the Crimson Alchemist put down his opponent or will Kira continue with his quiet life?
Interlude
Edit
NO RULES
JUST BLOODSHED
DBX!
Ad blocker interference detected!
Wikia is a free-to-use site that makes money from advertising. We have a modified experience for viewers using ad blockers

Wikia is not accessible if you've made further modifications. Remove the custom ad blocker rule(s) and the page will load as expected.