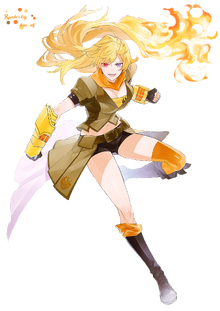 Yang is one of four main protagonists in RWBY. She fought Tifa Lockhart in an episode of Death Battle.
Fights so Far
Edit
Completed Fights
Edit
Possible Opponents
Edit
Bullet (BlazBlue)
Amethyst (Steven Universe)
Marvel
Super Mario Bros.
Tifa Lockhart (Final Fantasy)
Overwatch
Raphael (TMNT)
Street Fighter
Amy Rose (Sonic the Hedgehog)
Pokémon
Panty Anarchy (Panty and Stocking)
Mortal Kombat
Star Butterfly (Star vs the Forces of Evil)
Link (The Legend of Zelda)
Little Mac (Punch Out)
Nicole Watterson (The Amazing World of Gumball)
Shantae (...)
Katie Walker (Power Rangers)
Samus Aran (Metroid)
The Heavy (Team Fortress 2)
Team RWBY Battle Royale
Cinder (Killer Instinct)
Po (Kung Fu Panda)
Metal Gear
Saitama (One Punch Man)
So Far Stats
Edit
Wins: 2
Losses: 5
Ties: 0
Ad blocker interference detected!
Wikia is a free-to-use site that makes money from advertising. We have a modified experience for viewers using ad blockers

Wikia is not accessible if you've made further modifications. Remove the custom ad blocker rule(s) and the page will load as expected.