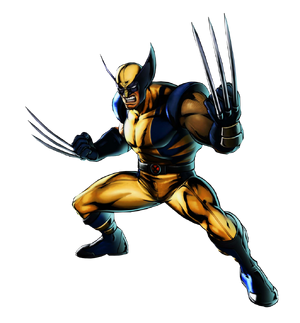 Wolverine is a character from Marvel Comics. He fought against
Raiden
from the Metal Gear franchise in an episode of Death Battle and fought against
Raphael
from the Teenage Mutant Ninja Turtles franchise in an episode of DBX.
Fanon Wiki ideas so far
Completed Fights
Possible Opponents
Raiden (Metal Gear)
Master Chief (Halo)
DC Comics
Koga (InuYasha)
Guts (Berserk)
Kratos (God of War)
Freddy Krueger (A Nightmare on Elm Street)
Pokémon
Scorpion (Mortal Kombat)
Vega (Street Fighter)
Dante (Devil May Cry)
Sol Badguy (Guilty Gear)
Stitch (Lilo and Stitch)
Jason Voorhees (Friday the 13th)
Ragna The Bloodedge (BlazBlue)
SCP-682 (SCP Foundation)
Fulgore (Killer Instinct)
Dragon Ball
Naruto
RWBY
Star Wars
Alucard (Hellsing)
X-Men Battle Royale

Beast
Iceman
Gambit
Night Crawler
Cyclops

Super Mario Bros.
Sonic the Hedgehog
Mega Man (...)
SlashMan.EXE (Mega Man Battle Network)
El Tigre (...)
Akame ga Kill
The Rake (...)
Hellboy (Dark Horse Comics)
Fate/Stay Night

Berserker/Heracles
Lancer/Cu Chulainn

Strider Hiryu (Strider)
Skullgirls
Shiro (Deadman Wonderland)
Image Comics
Attack on Titan
Garnet (Steven Universe)
Alex Mercer (Prototype)
So Far Stats
Wins: 6
Losses: 1
Ties: 0
Quotes
"I've come to slice you to pieces, bub."  Wolverine to Albert Wesker when the latter questions why he has arrived
"Not use hidin' bub." Wolverine using his sense of smell to search for Wesker (Note: This was a typo)
"Listen, bub. My bones are covered in Adamantium, an indestructible metal. Nothing in your entire arsenal can kill me. And I'm the very best at what I do." Wolverine boasting about his Adamantium skeleton to Wesker
"So you have hard bones and can heal too? What a ripoff." Wolverine after he finds out he and Wesker have more in common than he thought
"I told ya, bub. I'm the very best at what I do - and what I do isn't pretty." Wolverine after brutally killing Wesker
Ad blocker interference detected!
Wikia is a free-to-use site that makes money from advertising. We have a modified experience for viewers using ad blockers

Wikia is not accessible if you've made further modifications. Remove the custom ad blocker rule(s) and the page will load as expected.