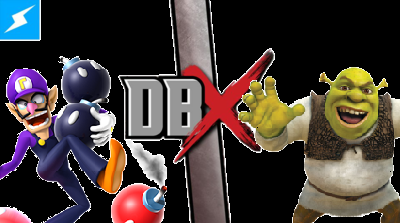 No Rules Just Bloodshed
DBX
Waluigi Was Seen Walking In A Swamp And Then He Saw A Ogre.
Shrek: WHAT ARE YOU DOING IN MY SWAMP!!!
Waluigi: What are you gonna do about it loser?
Shrek: Oh Right Then Prepare To Get Shrekt!!
Waluigi: WAAA!!!
HERE WE GOOOOOO
Shrek tackled waluigi then waluigi kick shrek.
Shrek: You gonna pay for that!!!
Shrek Tried to punch waluigi but he missed.
Waluigi: Take this!!!
Waluigi Throw A Bomb At Shrek.
Then shrek got really mad.
Shrek: Ok you asked for it!!
Shrek lead a massive fart but waluigi dodged it.
Shrek:What Impossible?!
Waluigi: You thought you was gonna win too bad it's waluigi time!!!
Waluigi throw multiple bombs at shrek which killed shrek.
Waluigi: Wahaha Waluigi Number One!!!
Results
Winner: Waluigi
Ad blocker interference detected!
Wikia is a free-to-use site that makes money from advertising. We have a modified experience for viewers using ad blockers

Wikia is not accessible if you've made further modifications. Remove the custom ad blocker rule(s) and the page will load as expected.