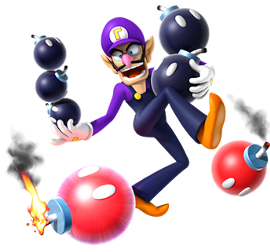 Waluigi is a character from the Mario series.
Fights
Possible opponents
Tingle (The Legend of Zelda)
Aran Ryan (Punch Out)
Undertale
Super Mario Bros.
Sonic the Hedgehog

Fang the Sniper
Jet the Hawk
Zazz

Hercule Satan (Dragon Ball)
NiGHTS (Nights into Dreams)
Daffy Duck (Looney Tunes)
Goofy (Mickey and Friends)
Deadpool (Marvel)
Squidward Tentacles (Spongebob Squarepants)
Foxy (One Piece)
King Dedede (Kirby)
Dick Dastardly (Whacky Races)
Pinkie Pie (My Little Pony)
Joker (DC Comics)
Balthazar Bratt (Despicable Me)
Junkrat (Overwatch)
The Demoman (Team Fortress 2)
Tournament
Ad blocker interference detected!
Wikia is a free-to-use site that makes money from advertising. We have a modified experience for viewers using ad blockers

Wikia is not accessible if you've made further modifications. Remove the custom ad blocker rule(s) and the page will load as expected.