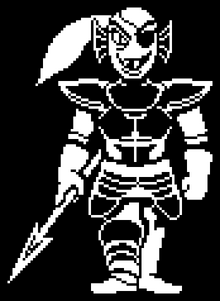 Undyne is a major character from the indie RPG Undertale.
Fanon Wiki Ideas So Far
Possible Opponents
Gill Grunt (Skylanders)
Shantae (...)
Waluigi (Super Mario Bros.)
Shovel Knight (...)
Steven Universe
RWBY
Erza Scarlet (Fairy Tail)
Saber (Fate Night Stay)
Ursula (Little Mermaid)
Samus Aran (Metroid)
Knuckles the Echidna (Sonic the Hedgehog)
Kyoko Sakura (Puella Magi Madoka Magica)
Kirby
Frog (Chrono Trigger)
Akuma (Street Fighter)
Lord Dominator (Wander Over Yonder)
Pit (Kid Icarus)
DC Comics
Impa (The Legend of Zelda)
Fulgore (Killer Instinct)
Ad blocker interference detected!
Wikia is a free-to-use site that makes money from advertising. We have a modified experience for viewers using ad blockers

Wikia is not accessible if you've made further modifications. Remove the custom ad blocker rule(s) and the page will load as expected.