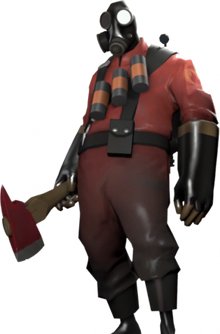 The Pyro is one of the nine classes in Team Fortress 2.
Fanon Wiki Ideas So Far
Possible Opponents
The Fury (Metal Gear)
Pinkie Pie (My Little Pony)
Sharkface (Red vs Blue)
Dingodile (Crash Bandicoot)
Pyro (Marvel)
Overwatch
​DC Comics
Tyrian Callows (RWBY)
Jason Voorhees (Friday the 13th)
Ad blocker interference detected!
Wikia is a free-to-use site that makes money from advertising. We have a modified experience for viewers using ad blockers

Wikia is not accessible if you've made further modifications. Remove the custom ad blocker rule(s) and the page will load as expected.