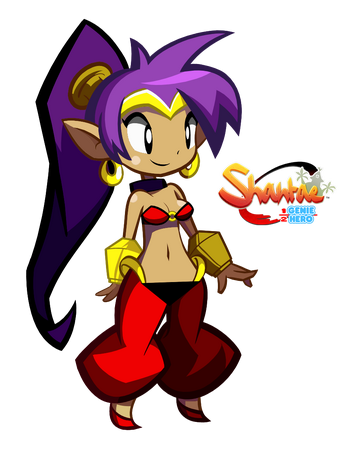 Shantae is a character from the Shanate series.
Ideas so Far
Edit
Possible Opponents
Edit
Shovel Knight
Steven Universe
Ulala
Beck
NiGHTS
Pit
PaRappa the Rapper
Korra
Star Butterfly
Nami
Denpu
Mileena
Ivy Valentine
Twilight Sparkle
Zelda
Juri Han
Cranky Kong
Crash Bandicoot
Undyne
Alucard (Castlevania)
Amethyst
Frisk
Gardevoir
Havoc (High Seas Havoc)
Kratos
Scrooge McDuck
Jack Skellington
Midna
Sash Lilac
Dixie Kong
Yang Xiao Long
Aladdin (Disney)
Bayonetta
Samus Aran
Simon Belmont
Rouge (Power Stone)
Asha (Monster World IV)
Lara Croft
Medicham
Marle
Ad blocker interference detected!
Wikia is a free-to-use site that makes money from advertising. We have a modified experience for viewers using ad blockers

Wikia is not accessible if you've made further modifications. Remove the custom ad blocker rule(s) and the page will load as expected.