Sans is a major character and the final boss of the Genocide Route from the indie RPG Undertale.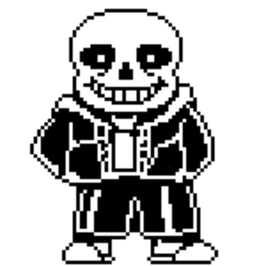 Fanon ideas so far
Edit
Possible Opponents
Edit
Beerus (Dragon Ball)
Super Mario Bros.
Beast Boy (DC Comics)
Rainbow Dash (My Little Pony)
Specter Knight (Shovel Knight)
The Judge (OFF)
Marie Korbel (Skullgirls)
Yukari Yakumo (Touhou Project)
Eric Cartman (South Park)
Steak (Helvetica)
Donald Duck (Mickey and Friends)
Street Fighter
Garfield (...)
Grim Reaper (The Grim Adventures of Billy and Mandy)
Gideon Gleeful (Gravity Falls)
Sonic the Hedgehog (...)
Bubsy (...)
Pokémon
Vergil (Devil May Cry)
Vanellope Von Schweetz (Wreck-it Ralph)
Sportacus (LazyTown)
Raphael (Teenage Mutant Ninja Turtles)
The Scout (Team Fortress 2)
Ad blocker interference detected!
Wikia is a free-to-use site that makes money from advertising. We have a modified experience for viewers using ad blockers

Wikia is not accessible if you've made further modifications. Remove the custom ad blocker rule(s) and the page will load as expected.