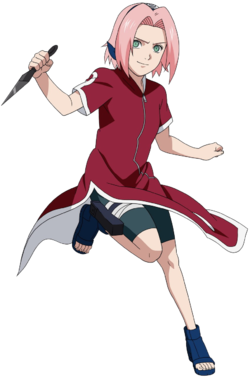 Sakura Haruno is a character from Naruto. She fought Rin Tohsaka in the fifth episode of DBX.
Ideas So Far
Possible Opponents
Tifa Lockhart (Final Fantasy)
Yamcha (Dragon Ball)
Sonic the Hedgehog
Korra (Avatar)
Super Mario Bros.
Nami (One Piece)
Asuna Yuuki (Sword Art Online)
Leone (Akame ga Kill)
Sakura Kasugano (Street Fighter)
Erza Scarlet (Fairy Tail)
Bleach

Rukia Kuchiki
Meninas McAllon
Orihime Inoue
Ad blocker interference detected!
Wikia is a free-to-use site that makes money from advertising. We have a modified experience for viewers using ad blockers

Wikia is not accessible if you've made further modifications. Remove the custom ad blocker rule(s) and the page will load as expected.