Ruby Rose is the main protagonists of the internet show RWBY.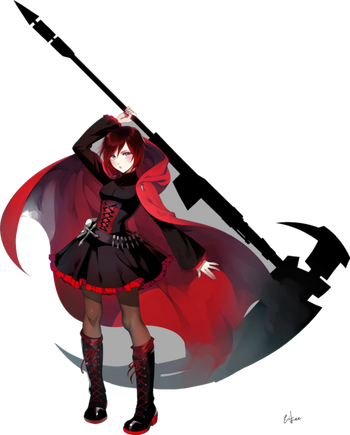 Fanon Wiki Ideas so far
Edit
Possible Opponents
Edit
Mario (Super Mario Bros.)
Steven Universe (...)
Sonic the Hedgehog
Link (The Legend of Zelda)
Leonardo (Teenage Mutant Ninja Turtles)
Finn the Human (Adventure Time)
Spongebob Squarepants (...)
Grim Reaper (The Grim Adventures of Billy and Mandy)
Asuna Yuuki (Sword Art Online)
Ryūko Matoi (Kill la Kill)
Marvel
Speed of Sound Sonic (One Punch Man)
Terrarian (Terraria)
Red Ranger (Mighty Morphin Power Rangers)
Specter Knight (Shovel Knight)
Guts (Berserk)
The Flash (DC Comics)
Harry Potter (...)
Dante Aligheri (Dante's Inferno)
Trish (Devil May Cry)
Boba Fett (Star Wars)
Izuku Midoriya (My Hero Academia)
Ad blocker interference detected!
Wikia is a free-to-use site that makes money from advertising. We have a modified experience for viewers using ad blockers

Wikia is not accessible if you've made further modifications. Remove the custom ad blocker rule(s) and the page will load as expected.