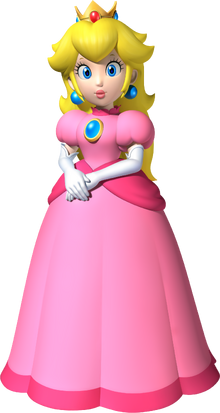 Princess Peach is a character from the Super Mario series. She is the love interest of Mario. She fought Princess Zelda in an episode of Death Battle.
Fanon Ideas So Far
Possible Opponents
Sonic the Hedgehog
Roll (Mega Man Classic)
Sakura Haruno (Naruto)
Chun-Li (Street Fighter)
Princess Zelda (The Legend of Zelda)
Samus Aran (Metroid)
Yang Xiao Long (RWBY)
Star Butterfly (Star vs the Forces of Evil)
Minnie Mouse (Mickey and Friends)
Leia Organa (Star Wars)
Ramona Flowers (Scott Pilgrim)
Parasoul (Skullgirls)
Asuna Yuuki (Sword Art Online)
Pokémon
DC Comics
Krystal (Star Fox)
Sailor Moon (...)
Kirby
Princess Celestia (My Little Pony)
Ms. Pac-Man (Pac-Man)
Palutena (Kid Icarus)
Princess Bubblegum (Adventure Time)
Ad blocker interference detected!
Wikia is a free-to-use site that makes money from advertising. We have a modified experience for viewers using ad blockers

Wikia is not accessible if you've made further modifications. Remove the custom ad blocker rule(s) and the page will load as expected.