Papyrus is a character from Undertale.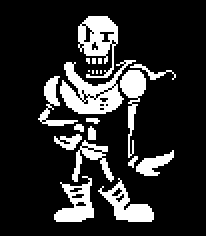 Fanon Wiki Ideas So Far
Edit
Possible Opponents
Edit
Skeletor (He-Man)
Sayaka Miki (Puella Magi Madoka Magika)
Hercule Satan (Dragon Ball)
Jaune Arc (RWBY)
Caboose (Red vs Blue)
Big the Cat (Sonic the Hedgehog)
Skull Man (Mega Man)
Mr Goodheavens (Helvetica)
Goofy (Mickey and Friends)
Mabel Pines (Gravity Falls)
Mike Wazowiski (Monsters, Inc.)
Globox (Rayman)
Jack Skellington (The Nightmare Before Christmas)
Sir Daniel Fortesque (Medievil)
Meowth (Pokémon)
Scout (Team Fortress 2)
Shovel Knight (...)
Bubsy (...)
Michelangelo (Teenage Mutant Ninja Turtles)
Pinkie Pie (My Little Pony)
Ad blocker interference detected!
Wikia is a free-to-use site that makes money from advertising. We have a modified experience for viewers using ad blockers

Wikia is not accessible if you've made further modifications. Remove the custom ad blocker rule(s) and the page will load as expected.