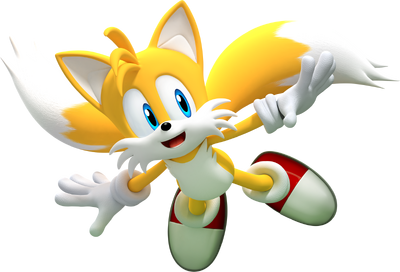 Miles "Tails" Prower is a character from the Sonic series. He previously fought
Luigi
in an episode of Death Battle and One Minute Melee.
Fanon Wiki ideas so far
Completed Fights
Possible Opponents
Donatello (Teenage Mutant Ninja Turtles)
Ratchet (Ratchet and Clank)
Kid Flash (DC Comics)
Super Mario Bros.
Samus Aran (Metroid)
Iron Man (Marvel)
Peridot (Steven Universe)
Dexter (Dexter's Laboratory)
Mami Tomoe (Puella Magi Madoka Magica)
Jeff Andonuts (Earthbound)
Coco Bandicoot (Crash Bandicoot)
Meta Knight (Kirby)
Twilight Sparkle (My Little Pony)
Bentley (Sly Cooper)
Jimmy Neutron (The Adventures of Jimmy Neutron: Boy Genius)
Pikachu (Pokémon)
Klonoa (...)
Lucca (Chrono Trigger)
Conker (...)
Sailor Mercury (Sailor Moon)
Genos (One Punch Man)
Krillin (Dragon Ball)
Star Fox
Oswald the Lucky Rabbit (Mickey and Friends)
Mega Man (...)
Renamon (Digimon)
So Far Stats
Wins: 1
Losses: 6
Ties: 0
Quotes
"Oof! Did you really have to punch me?!" Tails after Yoshi punches him in the stomach before their fight starts
"I'm gonna have to change my clothes after this." Tails after being thrown out of a lake by Yoshi
"Wake up. I'm sorry, wake up! Please! I'm sorry! Please wake up!" Tails begging Yoshi to wake up and apologizing to him
"This is all my fault... I'm so sorry..." Tails crying
"HEY!" Tails after catching Lucas on the spot standing by the Tornado, also his only words
Ad blocker interference detected!
Wikia is a free-to-use site that makes money from advertising. We have a modified experience for viewers using ad blockers

Wikia is not accessible if you've made further modifications. Remove the custom ad blocker rule(s) and the page will load as expected.