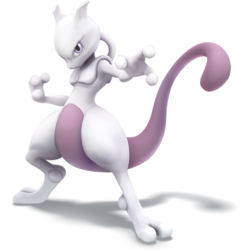 Mewtwo is a character from Pokémon. He fought Vegeta in a "joke" Death Battle then fought Shadow the Hedgehog in a real episode. He also fought Frieza in an episode of One Minute Melee, and will fight him again in a rematch.
Fanon Wiki Ideas So Far
Possible Opponents
Digimon

BlackWarGreymon
Myotismon

Tetsuo Shimua (Akira)
DC Comics
Marvel
Lucas (Earthbound)
Akuma (Street Fighter)
Stitch (Lilo & Stitch)
Bass (Mega Man)
Sephiroth (Final Fantasy)
Dark Pit (Kid Icarus)
Godzilla

SpaceGodzilla
Kiryu
Orga
Megaguirus
Biollante

Indominus Rex (Jurassic World)
Tatsumaki (One Punch Man)
Dark Samus (Metroid)
Sans (Undertale)
Star Wars
Mortal Kombat
Galery
Ad blocker interference detected!
Wikia is a free-to-use site that makes money from advertising. We have a modified experience for viewers using ad blockers

Wikia is not accessible if you've made further modifications. Remove the custom ad blocker rule(s) and the page will load as expected.