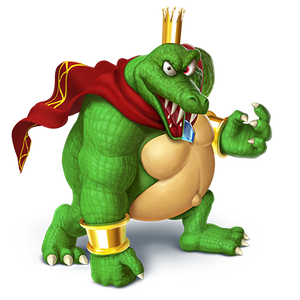 King K. Rool is the main antagonist of the Donkey Kong Country series.
Fanon ideas so for
Possible opponents
Super Mario Bros.
DC Comics
Donkey Kong Villains Battle Royale (King K. Rool vs Tiki Tong vs Lord Fredrik)
King Hippo (Punch Out)
Asgore Dreemurr (Undertale)
The Lizard (Marvel)
Magica De Spell (Mickey and Friends)
Boss Cass (Ty the Tasmanian Tiger)
Risky Boots (Shantae)
King Pig (Angry Birds)
Sonic the Hedgehog
Jasper (Steven Universe)
Gruntilda (Banjo-Kazooie)
Dr. Neo Cortex (Crash Bandicoot)
Ganondorf (Legend of Zelda)
Ad blocker interference detected!
Wikia is a free-to-use site that makes money from advertising. We have a modified experience for viewers using ad blockers

Wikia is not accessible if you've made further modifications. Remove the custom ad blocker rule(s) and the page will load as expected.