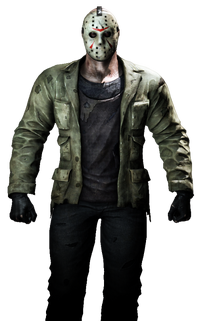 Jason Voorhees is the main villain protagonist of the Friday the 13th series.
Fanon Wiki Ideas So Far
Completed Fights
Battle Royale
Possible Opponents
Michael Myers (Halloween)
Freddy Krueger (Nightmare on Elm Street)
Victor Crowley (Hatchet)
Hellsing
Guts (Berserk)
Slenderman (Slender)
DC Comics

John Constantine
Solomon Grundy
Marvel
Scorpion (Mortal Kombat)
Nemesis-T Type (Resident Evil)
Pyramid Head (Silent Hill)
Spawn (Image Comics)
The Trapper (Dead by Daylight)
Jacob Goodnight (See No Evil)
Samara Morgan (The Ring)
The Meta (Red vs. Blue)
Leatherface (The Texas Chain Saw Massacre)
Kratos (God of War)
Pumpkinhead (...)
Frieza (Dragon Ball)
VainGlory
So Far Stats
Wins: 4
Losses: 1
Ties: 0
Ad blocker interference detected!
Wikia is a free-to-use site that makes money from advertising. We have a modified experience for viewers using ad blockers

Wikia is not accessible if you've made further modifications. Remove the custom ad blocker rule(s) and the page will load as expected.