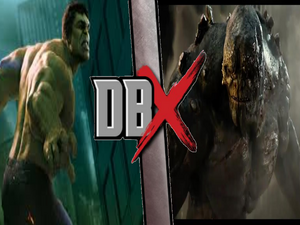 No rules
Just bloodshed
DBX!
Here we Go!
Edit
Hulk was smashing through a city while Doomsday crashed through a building both stare at each other ready to attack
Doomsday pounds his fists together and Hulk beats his chest
Here we Go!
Hulk charges at Doomsday and punches him Doomsday then kicks Hulk and shoves him into the ground Hulk then headbutts him and uppercuts the monster
The two grapple for each other's throats and try to kill one another Doomsday slashes Hulk with his fists but Hulk punches him in the gut
Hulk and Doomsday lunge at each other and exchange blows at a rapid pace Doomsday then smacks Hulk with a lamppost Hulk is knocked into a building but shrugs off the blow throwing several abandoned cars at Doomsday
Doomsday is buried under the cars Hulk then leaps into the air and Hulk smashes the ground injuring Doomsday Hulk then turns WorldBreaker and rapidly punches Doomsday who is overwhelmed Hulk then hits aDoomsday with such force his head is knocked off
Hulk then walks away
DBX
Ad blocker interference detected!
Wikia is a free-to-use site that makes money from advertising. We have a modified experience for viewers using ad blockers

Wikia is not accessible if you've made further modifications. Remove the custom ad blocker rule(s) and the page will load as expected.