Bruce Banner, AKA The Incredible Hulk, is a character from the Marvel Comics franchise. He fought against Broly in an episode of One Minute Melee and fought Doomsday in an episode of Death Battle.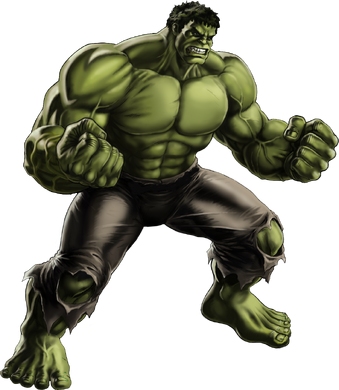 Fanon Wiki Ideas So Far
Completed Fights
​Possible Opponents
Saitama (One Punch Man)
DC Comics

Solomon Grundy
Green Lantern
Ares

Dragon Ball
Bowser (Super Mario Bros.)
He-Man (He-Man and the Masters of the Universe)
Terence (Angry Birds)
Eren Yeager (Attack on Titan)
Donald Duck (Mickey and Friends)
Pokémon
Thing (Marvel)
Popeye (...)
Shrek (...)
Alex Mercer (Prototype)
Kratos (God of War)
Chuck Norris (Real Life)
Sonic the Hedgehog
Buttercup (Powerpuff Girls)
Avengers Battle Royale
So Far Stats
Wins: 3
Losses: 1
Ties: 0
Quotes
As Bruce Banner
"What's wrong, young one?" Bruce sees a crying Mithra
"Come on, I'll help you find him." Bruce offering Mithra help to find her father Asura, unaware that he is about to arrive
"Err, no, I-I was just going to help her find-" Bruce trying and failing to convince a stubborn Asura that he was only trying to help Mithra find him
As Hulk
"YOU HIT HULK! THAT MAKE HULK ANGRY! YOU NO LIKE HULK ANGRY!!" Hulk to Asura before his battle with him
"HULK WILL BREAK YOU!!" Hulk after smashing Asura to the pavement
HAS YET TO BE COMPLETED
"HAMMER GOD HIT HULK. HULK SMASH HAMMER GOD!" Hulk vowing to defeat Thor, who had defeated him offscreen
"WHO HIT HULK!?" Hulk after Donkey Kong hits him with a coconut
"NO ONE SHOOTS HULK. HULK SMASH BIG MONKEY!!" Hulk preparing to fight Donkey Kong
"Hulk not care about hammer god any more... BECAUSE HULK WILL SMASH YOU!!!" Hulk to Donkey Kong after ending up in New York City thanks to the ape
Ad blocker interference detected!
Wikia is a free-to-use site that makes money from advertising. We have a modified experience for viewers using ad blockers

Wikia is not accessible if you've made further modifications. Remove the custom ad blocker rule(s) and the page will load as expected.