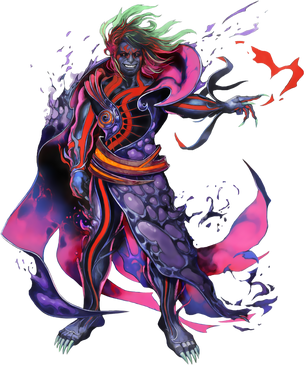 Hades is the main villain (uh, spoiler alert) of Kid Icarus Uprising. As the true Lord of the Underworld, he is a rather nonchalant God that takes pleasure in devouring souls and trolling everybody around him.
Fights so Far
​Possible Opponents
Dragon Ball
Death The Kid (Soul Eater)
Flowey (Undertale)
Arfoire (Hyperdimension Neptunia)
Hades (Disney)
Zeus (God of War)
Kefka Palazzo (Final Fantasy)
Bowser (Super Mario Bros.)
Ganondorf (Legend of Zelda)
Solaris (Sonic the Hedgehog)
Discord (My Little Pony)
Aku (Samurai Jack)
Pokémon
Ad blocker interference detected!
Wikia is a free-to-use site that makes money from advertising. We have a modified experience for viewers using ad blockers

Wikia is not accessible if you've made further modifications. Remove the custom ad blocker rule(s) and the page will load as expected.