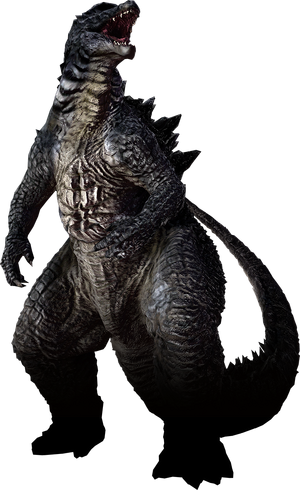 Godzilla is the titylar Kaiju from the eponymous series. He fought Gamera in an episode of Death Battle.
DBX Fights So Far
Completed Fights
Possible Opponents
Cthulhu (Cthulhu Mythos)
Gamera (...)
King Kong (...)
Pacific Rim
Bowser (Super Mario Bros.)
Leviathan (Atlantis: The Lost Empire)
Ultraman
Marvel
Asura (Asura's Wrath)
Evangelion Unit-01 (Neon Genesis Evangelion)
SCP-682 (SCP Foundation)
Doomsday (DC Comics)
Kurama (Naruto)
Sailor Moon (...)
Popeye (...)
Pokémon

Giratina
Groudon
Rayquaza
Zygarde

Clover (Cloverfield)
Smaug (The Hobbit)
Nemesis (Project Nemesis)
Metroid
Dragon Ball
Monster Hunter
The Giant Claw (...)
Mothra Leo (Rebirth of Mothra)
Asgore Dreemurr (Undertale)
Grimm Dragon (RWBY)
Titans (Attack on Titan)
Trypticon (Transformers)
Mighty Morphin' Power Rangers
Kirby (...)
Zilla Junior (Godzilla: The Series)
Ben 10
Sonic the Hedgehog
Rugrats Reptar (Rugrats)
Stay Puft Marshmallow Man (Ghostbusters)
Utsuno Ikusagami (Yamato Takeru)
Zillo Beast (Star Wars)
So Far Stats
Wins: 1
Losses: 1
Ties: 0
Ad blocker interference detected!
Wikia is a free-to-use site that makes money from advertising. We have a modified experience for viewers using ad blockers

Wikia is not accessible if you've made further modifications. Remove the custom ad blocker rule(s) and the page will load as expected.