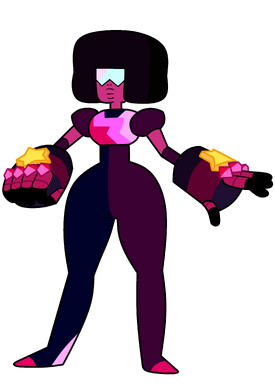 Garnet
 is one of the main protagonists on the show 
Steven Universe
. She is the leader of the Crystal Gems and a fusion between Ruby and Sapphire.
Fanon Wiki Ideas So Far
Possible Opponents
Marvel
Leone (Akame Ga Kill)
Dragon Ball
Donkey Kong (Super Mario Bros.)
Sailor Jupiter (Sailor Moon)
Pokémon

Black Kyurem
Regirock
Deoxys
Diancie

Saitama (One Punch Man)
Kevin Levin (Ben 10)
Captain Falcon (F-Zero)
Tifa Lockhart (Final Fantasy)
Lord Dominator (Wander Over Yonder)
Little Mac (Punch Out)
Vi (League of Legends)
Rayman (...)
Hellboy (Dark Horse Comics)
Ryūko Matoi (Kill la Kill)
Akuma (Street Fighter)
Knuckles the Echidna (Sonic the Hedgehog)
Ad blocker interference detected!
Wikia is a free-to-use site that makes money from advertising. We have a modified experience for viewers using ad blockers

Wikia is not accessible if you've made further modifications. Remove the custom ad blocker rule(s) and the page will load as expected.