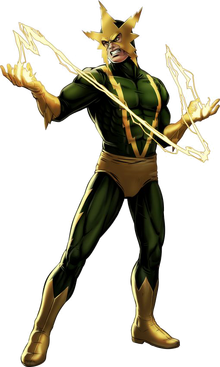 Electro is a villain from Marvel comics, he is an enemy to Spider-Man and enjoys pointing out when people are born losers or not.
Fanon ideas so far
Possible opponents
Cole MacGrath (InFAMOUS)
Static (DC Comics)
Livewire (DC Comics)
Shazam (DC Comics)
Blanka (Street Fighter)
Nora Valkyrie (RWBY)
Enel (One Piece)
Larxene (Kingdom Hearts)
Pikachu (Pokémon)
Elec Man (Mega Man)
Ad blocker interference detected!
Wikia is a free-to-use site that makes money from advertising. We have a modified experience for viewers using ad blockers

Wikia is not accessible if you've made further modifications. Remove the custom ad blocker rule(s) and the page will load as expected.