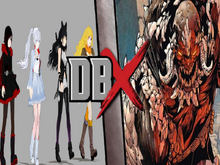 Pre-HERE WE GO!!!
Team RWBY is walking down the street
Yang: ... And that's how i beat Tifa
Blake: So you killed a bartender?
Yang Well if you say it like that... yeah
Ruby: It doesn't matter she's still the best sister anyone could ever have
Weiss: Agreed she's better than Winter...
Yang: Heh so she's pretty COLD
Weiss: Yang please don't say puns in public
Yang: You mean PUNblic
Blake: that was bad even for you
Ruby: Uhhh
Doomsday throws a car at RWBY
Blake: Did anyone bring the-
Weiss: NO, NO ONE BRANG WEAPONS
Yang jump forward and punches the car
Ruby: I bring all of our's when we leave them behind for reasons
They all get their weapons ready
Yang: Ok let's kick some monster ass
HERE WE GO!!!
Doomsday throws another car at them
Blake slices the car in half
Ruby: We gotta get up close
ABANDONED
Ad blocker interference detected!
Wikia is a free-to-use site that makes money from advertising. We have a modified experience for viewers using ad blockers

Wikia is not accessible if you've made further modifications. Remove the custom ad blocker rule(s) and the page will load as expected.