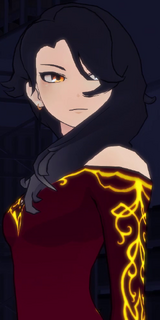 Cinder Fall is an antagonist from the web show RWBY.
Fanon Wiki Ideas So Far
Possible Opponents
So Far Stats
Wins: 0
Losses: 4
Ties: 0
Quotes
"Hah, you wish old man!" Cinder to Darth Sidious before fighting him
"I've had enough of your games, old timer!" Cinder after tripping Sidious
"Not so cocky now, old man?" Cinder after launching Sidious into a pillar with an explosive arrow, also her last words
"Shh. This is your home now..." Cinder to the Grimm Dragon
"You ignorant beast..." Cinder before battling Bowser, also her last words
"not... cannot be... This can not be happening..." Before the ghost rider used the Penance Stare, besides being their last words.
Ad blocker interference detected!
Wikia is a free-to-use site that makes money from advertising. We have a modified experience for viewers using ad blockers

Wikia is not accessible if you've made further modifications. Remove the custom ad blocker rule(s) and the page will load as expected.