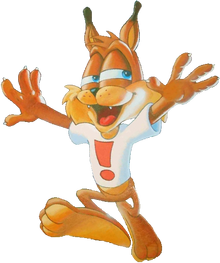 Bubsy the Bobcat is an infamous video game mascot created by Accolade.
Fanon Wiki Ideas So Far
Edit
Possible Opponents
Edit
Cool Cat (Derek Savage)
Mr. Freeze (Batman and Robin)
Raphael (Teenage Mutant Ninja Turtles)
Kiddy Kong (Super Mario Bros.)
Gumball Watterson (The Amazing World of Gumball)
Awesome Possum (...)
Lester the Unlikely (...) 
Dan Hibiki (Street Fighter)
Glass Joe (Punch Out)
Anubis (Anubis II)
Oswald the Lucky Rabbit (Mickey and Friends)
Undertale
Bugs Bunny (Looney Tunes)
Felix the Cat (...)
Sonic the Hedgehog

Big the Cat
Sonic the Hedgehog

Conker (...)
Crash Bandicoot (...)
Stimpy (Ren and Stimpy)
Pokémon
Ad blocker interference detected!
Wikia is a free-to-use site that makes money from advertising. We have a modified experience for viewers using ad blockers

Wikia is not accessible if you've made further modifications. Remove the custom ad blocker rule(s) and the page will load as expected.