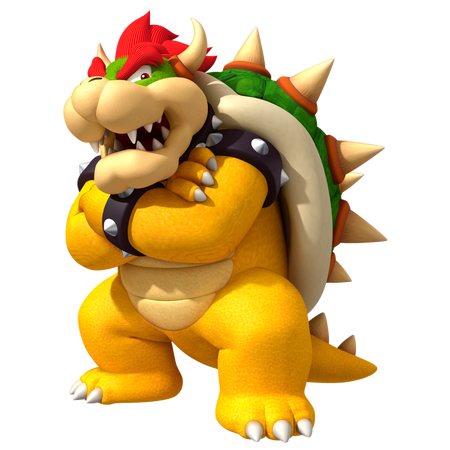 Bowser is the main antagonist of the Super Mario Bros. franchise. He fought against Doctor Eggman and Mecha Sonic in two episodes of One Minute Melee and then went up against Ganondorf in an episode of Death Battle.
Fights
Possible Opponents
Pokémon
Ridley (Metroid)
Greymon (Digimon)
Darth Sidious (Star Wars)
Dragonic Overlord (Cardfight Vanguard)
Spyro the Dragon (...)
Dragon Ball
Akuma (Street Fighter)
Lex Luthor (DC Comics)
Dr. Wily (Mega Man)
Marvel
Undertale
King Pig (Angry Birds)
Gruntilda (Banjo-Kazooie)
Dr. Neo Cortex (Crash Bandicoot)
Godzilla
Gamera (...)
Maleficient (Sleeping Beauty)
Pete (Mickey and Friends)
Grim Reaper (The Grim Adventures of Billy and Mandy/As Dry Bowser)
Smaug (Lord of the Rings)
Transformers
Natsu Dragneel (Fairy Tail)
Sephiroth (Final Fantasy)
Robbie Rotten (LazyTown)
Bendy (Bendy and the Ink Machine/As Black Bowser)
Mortal Kombat
Kid Icarus
Sonic the Hedgehog
Tournament/s
Ad blocker interference detected!
Wikia is a free-to-use site that makes money from advertising. We have a modified experience for viewers using ad blockers

Wikia is not accessible if you've made further modifications. Remove the custom ad blocker rule(s) and the page will load as expected.