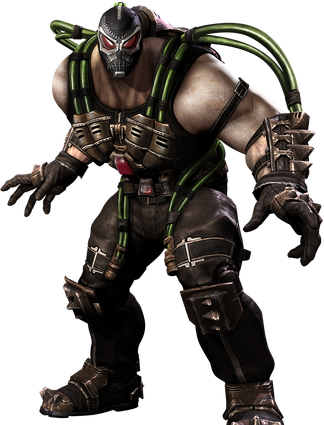 Bane is a villain from DC Comics and a recurring enemy of Batman. He fought
Venom
in an episode of Death Batle.
Fanon Wiki Ideas So Far
Possible Opponents
El Macho (Despicable Me)
Street Fighter
Syndrome (The Incredibles)
Wario (Super Mario Bros.)
The Heavy (Team Fortress 2)
Overwatch
Arkham Origins Assassins Battle Royale

Killer Croc
Firefly
Electrocutioner
Lady Shiva
Copperhead

Darth Vader (Star Wars)
Marvel

Venom
Kingpin
The Thing
Crossbones
Iron Monger

Sweet Tooth (Twisted Metal)
Robocop (...)
Ad blocker interference detected!
Wikia is a free-to-use site that makes money from advertising. We have a modified experience for viewers using ad blockers

Wikia is not accessible if you've made further modifications. Remove the custom ad blocker rule(s) and the page will load as expected.