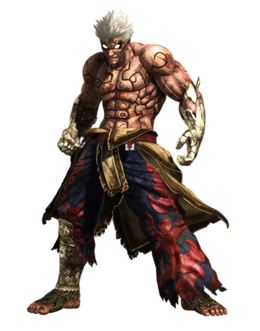 Asura is the main protagonist of the video game Asura's Wrath.
Fanon Wiki Ideas So Far
Completed Fights
Possible Opponents
So Far Stats
Wins: 1
Losses: 1
Ties: 0
Quotes
"YOU! YOU MADE MY DAUGHTER CRY!" Asura accusing Bruce Banner of making Mithra cry even though he was only trying to help her find Asura
"WELL, I AM ASURA! AND I WILL NEVER FORGIVE ANYONE WHO MAKES! MY DAUGHTER! CRY!!!" Asura preparing to do battle with the Hulk
HAS YET TO BE COMPLETED
"WHAT DID YOU JUST CALL ME?!" Asura takes offense to Yellow Lantern referred to him as a "white-haired guy with sandals" while contacting the corrupt Superman about him
"Watch your tongue unless you want me to punch you again!" Asura when Hal tells him that Superman to arriving to kill him and asking is he happy
"The two of you should be lucky I decided to spare you so I could find out who this "High Councilor" is! And especially when you referred to me as a white-haired guy in sandals while you were contacting him!" Asura warning Hal and Hawkgirl how lucky they were to survive against him
"DON'T SAY IT!" Asura when Superman nearly refers to him as the "white-haired guy with sandals" like Hal did when he was contacting him
"AND STOP YOUR CHILDISH LAUGHTER!" Asura as Hal and Hawkgirl laugh at him
"It's you who's about to die once you face my wrath!" Asura before his battle with Superman
"It will be the last power you'll ever see!" Asura stating that his Mantra powers will be the last thing Superman ever sees
"Only when you die will I quit!" Asura after Superman tells him to "quit while he can"
"RAAAH!" Asura upon being punched five times by Superman
"Neither am I." Asura when Superman says he will not stop until he kills Asura
"If anyone should've quit when they had the chance, it was you!" Asura while delivering a beatdown to Superman
"Goodbye, bastard." Asura before killing Superman
Ad blocker interference detected!
Wikia is a free-to-use site that makes money from advertising. We have a modified experience for viewers using ad blockers

Wikia is not accessible if you've made further modifications. Remove the custom ad blocker rule(s) and the page will load as expected.