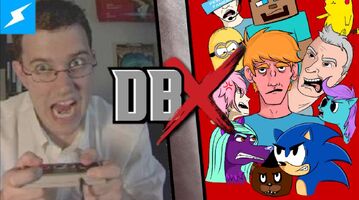 JAMES ROLFE VS ALEX
WARNING!
SUPRISINGLY ENOUGH THIS IS MY OPINION.
DON'T GET YOUR ANGRY NERDS IN A TWIST.
---
IHE PRESENTS:
ANGRY VIDEO GAME NERD
---
I Hate Everything was about to start his newest video, I HATE THE ANGRY VIDEO GAME NERD, when he heard the door being slammed down. It was the Nerd himself, who had heard what IHE was saying about him. "WHAT THE HELL WERE YOU FUCKING SAYING ABOUT ME, YOU FUCKING SHITHEAD?" AVGN asked. "I WAS TALKING ABOUT HOW MUCH I HATE YOU!" IHE replied.
"WELL I FUCKING HATE YOUR SHITTY FACE AS WELL, ASSHOLE!"
HERE WE GO!
Alex ran forward and threw DURR PLANT at James, knocking him down. "A FUCKING PLANT? WHAT THE FUCK IS THAT SUPPOSED TO DO?!" AVGN shot the plant like, a million times. Alex simply kicked James and uppercutted him through the roof. He ran out the door and caught AVGN, only to throw the Nerd and kick him away.
"FUUUUUUUUUUUUUUUUUUUUUUU--"
BOOM!
AVGN fell to the ground, but got up and threw a boulder that was near him at IHE. Alex was hit so hard he was sent flying back, only to crash through his house. Alex jumped off the Boulder, lifted it, and threw it. AVGN stood there, unaware of what was happening. Suddenly, he noticed.
"OH SHIT--!"
BAM!
AVGN was flattened. Blood was pouring out of his body. Alex had won.
"Now then, let's try re-doing that video..."
DBX