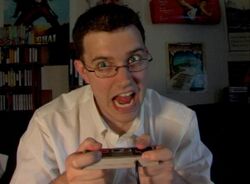 The Angry Video Game Nerd is a youtuber who reviews games from the past that suck ass.
Fanon Wiki Ideas So Far
Possible Opponents
The Nostolgia Critic (YouTube)
Irate Gamer (YouTube)
PewDiePie (YouTube)
King Ross (YouTube)
Travis Touchdown (No More Heroes)
Ad blocker interference detected!
Wikia is a free-to-use site that makes money from advertising. We have a modified experience for viewers using ad blockers

Wikia is not accessible if you've made further modifications. Remove the custom ad blocker rule(s) and the page will load as expected.