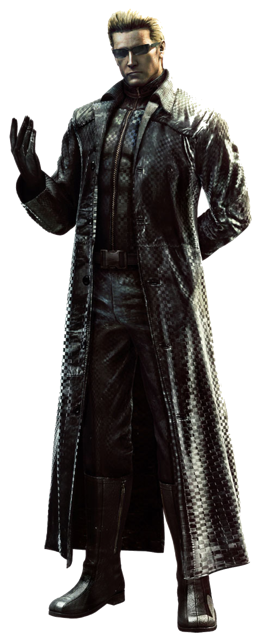 Albert Wesker is a character from Capcom's Resident Evil. He previously fought
Batman
in an episode of One Minute Melee.
Fanon Wiki ideas so far
Completed Fights
Possible Opponents
DC Comics
Marvel
Mercenary Tao (Dragon Ball)
Street Fighter
Alex Mercer (Prototype)
Metal Gear
Agent Smith (The Matrix)
Vergil (Devil May Cry)
Jake Muller (Resident Evil)
The Terminator (...)
So Far Stats
Wins: 0
Losses: 1
Ties: 0
Quotes
"And what business do you have with me?" Wesker to Wolverine after the latter arrives to Umbrella Corporation
"(Chuckles) You cannot slice Gods into pieces. You will eventually fall." Wesker boasting before battling Wolverine
"Hurk!" Wesker spits out blood as Wolverine thrusts all six of his claws into him
""Aaaagh!" Wesker screams as Wolverine snaps his arm in half
"I am impressed by our similarities." Wesker after Wolverine brags about his Adamantium skeleton, also his last words
Ad blocker interference detected!
Wikia is a free-to-use site that makes money from advertising. We have a modified experience for viewers using ad blockers

Wikia is not accessible if you've made further modifications. Remove the custom ad blocker rule(s) and the page will load as expected.