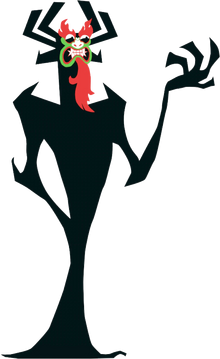 Aku is the main antagonist of the Cartoon Network show Samurai Jack.
Fanon Wiki Ideas So Far
Possible Opponents
HIM (Powepuff Girls)
Bill Cipher (Gravity Falls)
Magica De Spell (Mickey and Friends)
Frieza (Dragon Ball)
Akuma (Street Fighter)
Lich (Adventure Time)
Spawn (Image Comics)
Lord Hater (Wander Over Yonder)
Giratina (Pokémon)
Shao Kahn (Mortal Kombat)
Ganondorf (The Legend of Zelda)
Majora (The Legend of Zelda)
Naraku (InuYasha)
Mundus (Devil May Cry)
Grim (The Grim Adventures of Billy and Mandy)
Tournament
Ad blocker interference detected!
Wikia is a free-to-use site that makes money from advertising. We have a modified experience for viewers using ad blockers

Wikia is not accessible if you've made further modifications. Remove the custom ad blocker rule(s) and the page will load as expected.